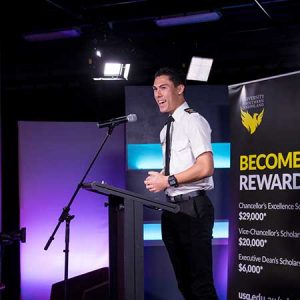 University of Southern Queensland (USQ) Aviation student Matthew has always wanted to be a pilot.
He remembers spending weekends at Archerfield Airport with his father watching the planes take off and land and speaking to pilots.
His dream was to fly, and USQ has provided the runway to make it happen.
"During Year 12, I was going through my university options and USQ Aviation stood above the rest," Matthew said.
"It had small class sizes, which makes it easier to communicate with the lecturer, a flight simulator that is incorporated into the degree and industry-known lecturers."
According to the latest statistics from Boeing's Pilot & Technician Outlook 2019-2038, about 800,000 new pilots will be needed to fly and maintain the world's fleet over the next two decades – with nearly 40 per cent of those required in the Asia Pacific region.
USQ offers Aviation at its Springfield and Toowoomba campuses.
The university's $1 million flight simulators features state-of-the-art equipment and technology, providing aviation students with real-world experience through multi-crew simulated training in an aircraft cockpit.
Scholarships
Helping launch university possibilities for school leavers is the automatic scholarships offered for students with OPs from 1-8 who list USQ as their number-one choice for QTAC.
School leavers who achieve an OP of 1-2/ATAR 97.5 will automatically receive a scholarship package valued up to $29,000, including an optional study abroad package and leadership development.
Students with an OP 6/ATAR 90 or above will be awarded a scholarship package valued up to $20,000.
And students with an OP8/ATAR 85 or above will be awarded up to $6,000.
It was a scholarship that helped Matthew take flight and follow his own career flight path at USQ.
"There are a lot of things that I have enjoyed during my studies, from attending each lecture and learning about aviation, to seeing my mates every day," he said.