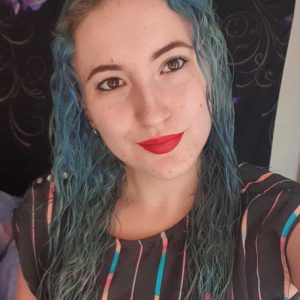 A young Bathurst performer who enjoys all types of entertainment and seeing people doing what they love hopes to travel overseas to start a professional entertainment career.
Before the COVID-19 pandemic, 20-year-old theatre media student at Charles Sturt University, Elicia, spent her days on stage rehearsing and performing with her classmates.
But over the past few months, the creativity of Elicia and her fellow theatre media students has been tested and pushed to new heights as they navigated how to create performances in a world of COVID-19 lockdowns and restrictions.
The Bathurst-local, who started her Bachelor of Theatre Media in March 2018 after falling in love with the course on a tour of the Bathurst campus, said the COVID-19 pandemic lockdown has been "absolutely crazy".
"But the show must go on, as they say; it's been crazy, but a good type of crazy, all things considered," Elicia said.
"Working from home has made all of us rethink our shows, such as the third-year show, Bathurst Arts and Theatre Society (BATS), and the SPRUNG Festival which is being performed in an online space instead of relying on the Ponton Theatre and live audience engagement."
"But as creatives we adapt to our circumstances and keep going."
"Most of my subjects this year are practical, so we have been collaborating on ZOOM so we can develop shows online."
"It's been a lot harder than you'd expect because we grew so close and haven't been able to 'read the room', which helped so much when developing our performances."
"Whereas now on ZOOM, our projects have been affected because we can't bounce off each other as easily."
Asked what, if anything, she missed most about on-campus uni life during the pandemic lockdown, Elicia said she missed being able to work with her fellow students in the workshop studios and in the Ponton Theatre and the Creative Hub.
"I miss seeing my classmates, and developing a show and bouncing off each other creatively," Elicia said.
"And most of all, I miss seeing the people at the university, the audience interactions, as well as just walking around campus and seeing everyone's faces happy to just be there studying what they dream to do in their future."
"Being on campus felt inspiring and definitely helped feed the sense of pride you get when showing everyone something you have created."
Commenting about teaching online during the COVID-19 lockdown, lecturer in theatre media, Zoe Rodwell, said that almost overnight, they saw theatre spaces across Australia close their doors and current productions cease rehearsals.
"During this time, the Bachelor of Theatre Media staff and students responded with innovative and immediate adaptation of how we progressed our subjects and current productions,"" she said.
"Students packed their bags, left campus and reunited in the ZOOM space where rehearsals and productions continued to evolve."
Ms Rodwell said although the initial period posed some difficulties, particularly with student adjustments to social isolation and existing subject experience expectations, she is pleased with the work students have produced in their new learning environment.
"After a few weeks, the dust settled and we found ourselves in a new, online space; a space that still offered opportunities to connect, create and produce exciting original performative works," she said.
"One of the unexpected joys has been the collaborative and versatile mindset of staff and students alike; ultimately the shared commitment to the creative production process."
Ms Rodwell is currently working with Elicia and her third-year theatre media classmates on this year's SPRUNG Festival.
Elicia said she is looking forward to being a part of the first-ever virtual SPRUNG Festival, which will put her actual performance skills – what she says are one of her particular strengths – to the test.
"I enjoy being on the stage being a character and developing and getting to know the character's personality," she said.
"I love the development of creativity, and bouncing off others' ideas to make one big amazing idea."
"Most of all I enjoy seeing the audiences' facial expressions changing with the ride of emotions the performance sends you on."
After graduating from Charles Sturt, Elicia plans to study song lyric writing, and then travel overseas to start a professional entertainment career.
"I've been writing song lyrics since I was 14 years old, and I also absolutely love to write short stories or mini novels," she said.
"I really enjoyed scriptwriting and creative writing as a subject; anything creative I find quite interesting and fun to be a part of or doing."